Specializing in hand split wood billets for baseball bats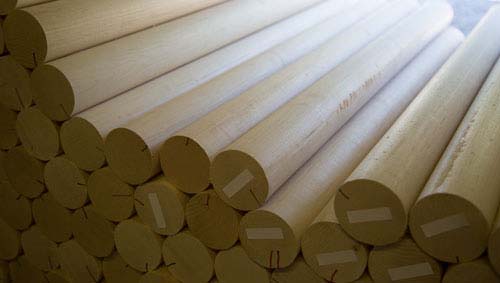 Here at Fine Hardwoods we supply the best wood around for turning wood baseball bats. Whether you're looking for maple, ash, or birch we have it and it lasts! We also carry a variety of grades so you can find the perfect billet to fulfill your needs. It doesn't matter if you're a big company looking for a new supplier, small company trying to get your foot in the door, or a hobbyist making them for fun, we'll have the perfect wood blanks for you.
We also have gift certificates available that make great gifts and be sure to check out our private label program!
European Beech coming soon!

Want to start your own line of wood bats? Check out our private label program today!

Curious about shipping costs? Check out our new FedEx shipping calculator to get an estimate on your next order.
These are hand split rock maple/sugar maple billets. Whether you're looking for the right piece of lumber for a pro or a grandson who is just getting started, we have the right piece of wood for you.
These are hand split northern white ash billets. We have A grade, B grade, as well as youth/trophy billets available. Ash is a staple in the wood bat world so if you're looking for quality blanks you've come to the right place.
These are yellow birch billets. We offer a variety of birch billets that will suit whatever needs you may have. We offer a standard A grade, youth/trophy, and a light weight fungo.
Looking for bamboo? We carry premium pre-cut bamboo bats that are ready to be finished. Our bamboo model has a full size barrel and is top of the line.
*We no longer carry bamboo billets*
We offer a variety of unfinished bats in the most popular models around. All of our unfinished bats are made from A grade billets and are sanded, boned, and have full barrels. We also have a private label program.
Interested in getting the lowest price for your billets? Check out our skid pricing. We have skids of maple, birch, and ash available in several different grades to suit your needs.